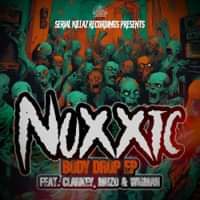 Noxxic returns to the Serial Killaz imprint with six unadulterated cuts of pure jump up grot.
Opening with the title track, Body Drop commences with a shredded lead guitar line and cinematic impact hits. A series of risers, snare rolls, and bass stabs later, the track descends into a visceral combination of skippy drums and guttural basses.
Muzo joins Noxxic for Stamina. Ragga samples and chopped up breaks in the intro riddim pay homage to the roots of drum and bass, in juxtaposition with the contemporary sonics present in the drop; think big snares, chromatic melodies, and distorted basslines.
Frequent collaborator and Manchester-based artist Clarkey appears alongside Noxxic on Gunners, a peak-time jump up stomper. Heavy, stuttering basslines interspersed with effervescent leads inject the track with buckets of energy and are primed to make subs rattle.
North West representation continues into Behave, a collaboration with Wigman. Sparse drums and a descending bassline form the foundation of this dark stepper; bass hits and reeses further embellish the track.
Deep End comes as the penultimate track and Noxxic's second solo offering from this project. Bass hits and wobbles drive this weighty tune forwards, as do harmonic and melodic variations of the main bassline.
Noxxic closes the release with a remix of Jay Jay's Dip It Low, originally released on the Serial Killaz label earlier in 2023. Belgian laser-like squelches are bound to appeal to jump up aficionados, as are the bass hits and kick rolls found throughout the track.
Press by edjwhite11@gmail.com Artwork by bassnetwork@hotmail.com