General Levy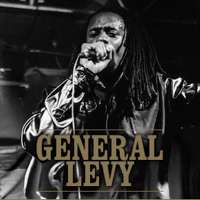 Paul Levy a.k.a. General Levy, real veteran of the UK urban music scene, grew up influenced by reggae music and black culture. Thanks to his older brother, huge music fan, Paul was enabled to build up a consistent musical culture: from ska to rock steady, calypso to soul music, hip-hop to reggae. Quickly, he went on writing his own lyrics and created his first sound system, "Third Dimension", along with friends.
Levy continued his music adventure touring with many famous UK sound systems such as Vigilante, Java Nuclear Power… But it was Tippertone Sound that really launched the General to the UK MC circuit. Since then, Levy started to build up his reputation and was approaching the studio recordings. Lloydy Crucial and Robbo Ranx were the first producers to offer him studio projects.
Together they released the underground tracks such as "Tell Me Why" and "You Can't Hurry Love", on which he was assisted by Junior Dan, a longtime singer. He, then, signed with Gussie P at fashion Records, one of the most important reggae labels. They unleashed a string of underground dancehall fillers such as 'Original Length and Strength', 'Heat', 'Breeze', 'The Wig' and 'Champagne Body'.
In 1992, he released his first album "Double Trouble", with Jamaican superstar Capleton.
His second album 'Wickeder General', still with Fashion Records, brought an international recognition to the 19-year old General, awarded with several prizes: best reggae album, best single for 'Heat', and UK premiere MC.
In 1993, London Records from the Warner Music Group was licensed to re-release the album re-titled "Wickedness Increase".
Always looking for new experiences, the General colaborated with several talented producers such as Sly & Robbie, Shaggy, Steelie & Cleevie, Artful Dodger, Jetstar, Ajang, Joe Grind, Gussie P, Stingray and Heartical Records.
In Spring 94, the independent jungle label Renk Records had Levy to collaborate with the producer M-Beat. The collaboration was an international success and 'Incredible', caused a massive storm, achieving top ten status in the national mainstream charts and later used in the movies "Ali G In Da House" and "Seuls Two".
This year saw the general finish his first single for the Serial Killaz label in the shape of 'Professional Ganja Smoker' which has seen non-stop dubplate support from many of the top names in the jungle scene and those lucky enough to receive it on dubplate.
He has also recently completed his new album, 'Forward', with Italian producer Bonnot which includes mixes from Ed Solo, Ricky Tuff and Serial Killaz.
In the mean time he continues to make waves with his energetic live performances around the globe proving that he is indeed the Wickeder General!
WEBSITE: http://www.general-levy.com/