New Release: Lowriderz - Back To Business EP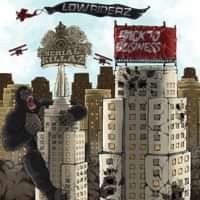 'Back' is one dangerous lead to this EP that would no doubt take anything in its path and give it a good bashing. You know the vocal sample already and wrapping this around a single sine wave is the perfect complement alongside the regular breakbeat switches.
Distant Future and Steppa Style link up for the ride on 'Dub Stye' and 'No Shop Talk' respectively. Both feature heavy '96 influences with pitch bent basslines, tons of vocal shots and bubbling beats that will have you sticking flyers from the past all over your bedroom, flicking up a lighter and trying to invent a time machine.
'Dubplate' and 'Stop' could have been a double A side release and their stark variations compliment each other perfectly. On one hand you have a tough roller with a singalong style riff. The flip, more of a flexed out riddim, however, both contain that all important Serial Killaz element. Original roots and foundation.
The flavour for 2020 is without a doubt full circle from the mid 90's and if Lowriderz have anything to do with it, long may it continue.
Press Release: Dubplate Creative