NEW RELEASE: DEZ – ROCKERS EP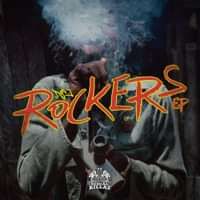 One half of the drum and bass duo Bass Brothers, Dez had a busy year in 2016 releasing an onslaught of tracks, all coming with huge DJ support. Kicking off 2017 he's bringing the 'Rockers EP' to the legendary Serial Killaz label and quite rightly so – it's packed with 4 wicked tunes that do the brand justice.
Kicking off with 'Full A Ganja', a track that fuses house synth stabs with reggae vocal samples, an odd combination you may think? One thing is for sure though, it works so well and blends directly into full on beats and bass that are guaranteed to make the dance floor explode into a frenzy of arms and legs all over the place.
Totally flipping the script on the next tune 'House of Madness' is way off the radar when it comes to the vibe left from the previous 3 tunes. As the title may suggest, it's a war riddim surrounded by B movie vocal samples, crushing synth stabs and ever pounding basslines. Maybe Capcom should have picked this one up to coincide with the launch of their new Resident Evil game… BIG!
'Mr Kali' featuring Turno follows up with smoothed out reggae vocals and pads which effortlessly roll out into huge growling bassline and tribal beats. Certainly one for the smokers and ravers alike! This one has been doing so much damage on dub over the last few months it's no wonder the reaction has been spot on.
Last but by no means least is 'Rockers' featuring a barrage of vocals, funked up percussion and rolling bass. Experimental business that will leave your head nodding hours after the track has finished playing. Hardstep crew, this one is without a doubt you!
If you're looking for a collection of 4 smashers and no fillers then this EP is 100% for you. From radio to rave, every one of these tunes fits as you would expect it to.
Format: WAV
Title: Rockers EP
Artist: Dez
Label Serial Killaz Recordings
Catalogue: KILLAZ032DIG
Release Date: 3rd March 2017
Tracklist:
1. Full a Ganja
2. House Of Madness
3. Mr Kali (ft. Turno)
4. Rockers
Exclusively on the Serial Killaz shop until general release. Click here to buy.
SERIAL KILLAZ ONLINE
YouTube | Twitter | Soundcloud | Facebook