NEW RELEASE: DJ LIMITED – DUBPLATE EP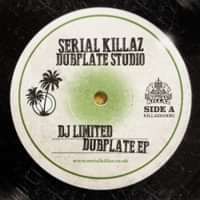 Everyone loves the word dubplate. It's something that's bashed about the scene pretty loosely these days but what's serious amiss is that actual dubplates were pressed to promote tracks before promo copies were even considered.
Taking that fact into consideration you wouldn't think Serial Killaz would even touch a release under the title 'Dubplate' without it being of serious quality would you? Of course not!
This EP from Limited is firing all kinds of shots – bring forth the flamethrowers.
The title track, 'Dubplate' provided a staple amount of reggae infused new school jungle although the switch here is that the bassline layering is a combination of hefty subs and glossy metallic tones that physically rip through metal speaker mesh. If you're watching the red lines, this one is a serious warning to sound engineers.
'Gang Related' has been bashed to bits by DJs currently supporting this EP and for a valid reason. It's a nasty piece of filth that belongs in the gutter, the type of track you would only dare to drop in a really moody dance. Not one for the festival, not one for the radio – just smoke, lazers and darkness.
Switching things 360 degrees with 'Colour', a bright and upbeat number with plenty of funk and wobbles. It's screaming out to be sandwiched into something equally as devastating and for those that understand the true meaning of double dropping, it's going to be right up your street. Dangerous on it's own, murderation in a link up.
'Hit The Streets' brings the vibe into new territory with plenty of panic ridden vocals, rumbling basslines and skippy swing breaks. Another moody track yet totally different to 'Gang Related' due to it's upbeat breakbeat structure and vocal driven atmosphere.
Lastly 'Ready' and boy is this tune a big one! Incredibly well known vocal samples, gunshot effects and no-nonsense production make this an amazing end to the EP. The reversed speech effects combine effortlessly with the recurring "one two" which will have any crowd humming along (which certainly seems to be the in thing at present!).
Shots from the double chamber, Limited is set to cause a ruckus with his new EP this year and Serial Killaz are certainly not standing in his way!.
Format: WAV
Title: Dubplate EP
Artist: DJ Limited
Label: Serial Killaz Recordings
Catalogue: KILLAZ033DIG
Release Date: 28th April 2017
Tracklist:
1. Dubplate
2. Gang Related
3. Colour
4. Hit The Streets
5. Ready
Exclusively on the Serial Killaz shop until general release. Click here to buy.
DJ LIMITED ONLINE
Twitter | Soundcloud | Facebook
SERIAL KILLAZ ONLINE
YouTube | Twitter | Soundcloud | Facebook
Words: Jamie S23
Press Contact: weare@ontherisemusic.com
LIKE THIS RELEASE? TWEET US: @deejaylimited @SerialKillaz & @OTRPromotions