NEW RELEASE: UPGRADE – TEMPER TANTRUM EP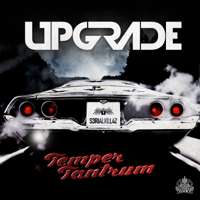 Upgrade, well known for his skills creating huge dancefloor bashers returns to the Serial Killaz label to unleash his brand new EP 'Temper Tantrum'. He's obviously been taking his recent automobile frustrations out on the mixing desk as this collection of tracks bangs harder than a head on collision on the M1.
The title track 'Temper Tantrum' provides the perfect introduction to the forthcoming mayhem with an infectious synth hook which is swiftly mimicked by a roughly layered bassline and Wild West vocal stabs.
'It's Possible' keeps the pace rolling with the promise of virtual bombs exploding across the rave. It's another heavily riff driven track that's screaming anthem and will no doubt have had ravers humming that gritty patten way after the 6am cutoff.
Next up on the agenda is 'Terrorick'. Guided by a ton of excellent vocal samples, it's the perfect quick turnaround that any DJ looking for snappy devastation will need. With no let off from the word go, it's another addictive track that will leave you within an inch of exhaustion, no matter what your dancing style.
Toning down the initial pace, 'Blow' provides images of a more glamorous setting but this is obviously a false pretence as it's quick to change into a throbbing monster of a track. The trick here is the switch at 1:30 which takes the pace to another level. A perfect way to change the style and direction of a tune and it works so well. Forget your key changes, this is where it's at!
Finishing off this immense EP is 'Run This Again'. The sublow guiding element to the intro will have any die hard ravers in pieces even before the ever so popular drop, and what a drop it is! Layers upon layers of drums, bass switches, more bass switches and everything in between make this final track an absolute killer from Manila.
This EP from Upgrade really does show why he's a notch above most in the drum and bass scene. If you sleep on this, you really are missing out and with DJ support from the likes of Andy C and Skrillex to name a few, it's time to unleash your temper.
Format: WAV
Title: Temper Tantrum EP
Artist: Upgrade
Label: Serial Killaz Recordings
Catalogue: KILLAZ032DIG
Release Date: 31st March 2017
Tracklist:
1. Temper Tantrum
2. It's Possible
3. Terrorick
4. Blow
5. Run This Again
Exclusively on the Serial Killaz shop until general release. Click here to buy.
UPGRADE ONLINE
Twitter | Soundcloud | Facebook
SERIAL KILLAZ ONLINE
YouTube | Twitter | Soundcloud | Facebook
Words: Jamie S23
Press Contact: weare@ontherisemusic.com
LIKE THIS RELEASE? TWEET US: @upgrademusic @SerialKillaz & @OTR_Promotions