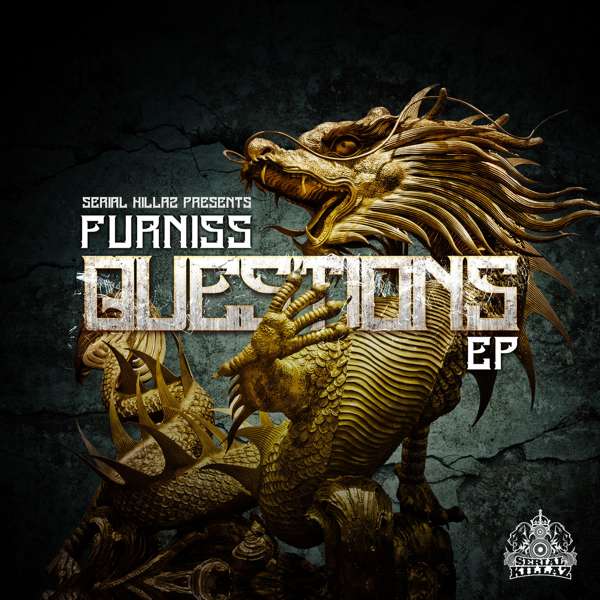 Furniss - Questions EP
The Serial Killaz release schedule shows no sign of slowing down and with this latest release from Northampton's very own Furniss, it's totally full steam ahead. 'The Questions' EP is a rammed jammed affair of 6 heavyweight drum and bass tracks that take reference from the likes of 'Raw Dogs' relick, 'Enta Da Dragon' and many more flavours from that golden era of jump up.
The title track of the EP sets the pace firmly with a ton of clever samples that create a sense of apprehension before killer slices of drone bass cuts in and out of Furniss' well polished snares. It's a clever take on the traditional use of dubbed vocals which works incredibly well.
'Here We Go Again' is a fine combination of influences from the Joker Records era and up to date drum programming. The subtle introduction of additional elements provide a constant platform of switches and is testament to the fact that jump up isn't just a case of blatant copy and pasting.
Moody vibes a run with 'The General', so much so that it's one of those tunes that would easily fit into a beat em up video game boss intro. Furniss has taken elements of vocal samples, film scores and wonky drum programming to create a real darkside head nodder and with the addition of a proper sublow bassline, it's certainly one to check.
A slight switch next (as expected from anything release via Serial Killaz) by way of 'Lord A Mercy' and this is where things really tie into the brand. Combining a single fire vocal sample and trailing bass that really holds the weight tightly in place.
'Babylon' is a monster, a REAL monster of a tune. Trailblazing bass from first to last drop, it's a wonder Furniss managed to get such high impact from digital production. This is low end that you not only hear, but feel.
Finishing things off with 'This Technique'. A murky stepper of the highest proportion which doesn't shut the door on what Furniss has to over. Expect much more to come in 2018.
This whole EP is something of a masterpiece and will no doubt appeal to both old and new drum and bass heads alike. References in abundance from the mid 90's, this is not only an education but a pure dancefloor destroyer for festivals and small back rooms alike.
Format: WAV
Title: Questions EP
Artist: Furniss
Label: Serial Killaz Recordings
Catalogue: KILLAZ037DIG
Release Date: 1st December 2017
Press release: Jamie S23
Tracklist
Questions
Here We Go Again
The General
Lord A Mercy
Babylon
This Technique