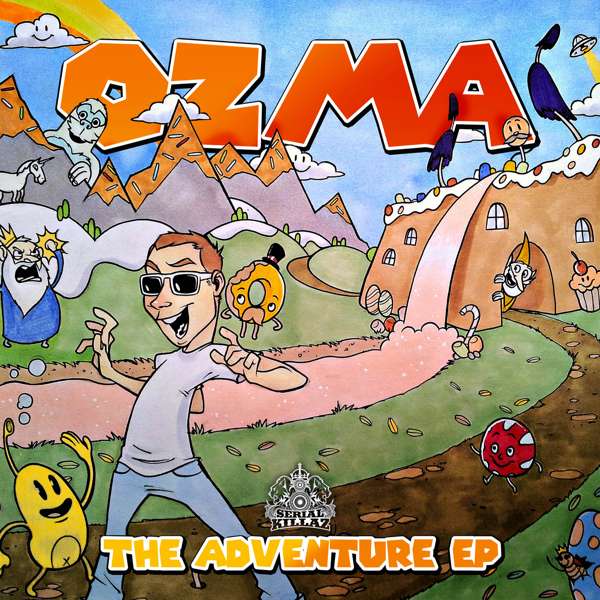 Ozma - The Adventure EP
Fresh out of Russia, Ozma delivers a action packed EP to the Serial Killaz camp. With a total of 5 upfront tracks, it's a big offering to DJs who play across the board. If you like your drum and bass fused between sub genres then this really is one big sonic adventure for your ears.
Ozma's EP kicks off with a slab of synth chords which some may reflect on being very 'Piper'. The progressive element of this tune really does take effect from the first beat and it's dynamic range is something else.
Who would have thought that hip hop vocals, grunge and drum and bass would fuse together so well? Well in the case of 'University' it sure is a winning combination. Knock your block off bass combined with a real stick in the mud breakbeat selection provides the ultimate chemistry here.
The sounds of 'Iron Hammer' resonate hard through the speaker box as this tough, rough and ready tune smacks 7 shades of bass across the dancefloor. It's mid section structure change will knock even then most experienced MC in the game momentarily. Drumstep meets industrial drum and bass.
'Hybrid' is exactly that, a mixture of styles and flavours that combine into one almighty wallop of funk.
Finishing up the EP 'Plutonium' does a fine job at scattering wide eyed ravers pupils into oblivion with it's hectic, drum fueled supersonic bass riffs. A high octane ride into the world of Ozma and his wild imagination.
Something a little different from the Serial Killaz camp and maybe a sign for future releases. Drum and bass really is a worldwide offering and with a bucket load of influences from across the border, this EP really does show how far we have come since the early days of the scene being locked down.
Format: WAV
Title: The Adventure EP
Artist: Ozma
Label: Serial Killaz Recordings
Catalogue: KILLAZ038DIG
Release Date: 28th January 2018
Press release: Jamie S23
Tracklist
Ozma - The Adventure
Ozma - Hybrid
Ozma - University
Ozma - Iron Hammer
Ozma - Plutonium
Ozma & Lowriderz - Smoked Style