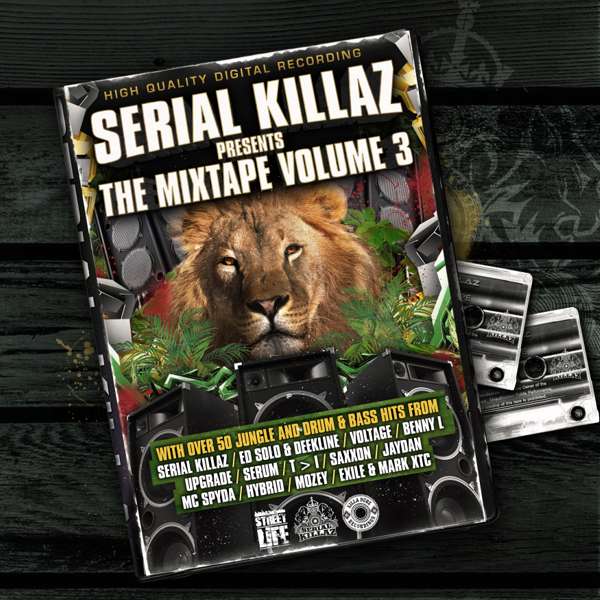 Serial Killaz Presents - The Mixtape Vol. 3
Zar - Don't Let It Fade Away
Ozma - Expect (album only)
Selecta J-Man - Big Bout Ya
Harley D - Badboy (album only)
Serial Killaz - Rude Bwoyz
DJ Hybrid - Battle Skillz
Kontakt - Disassemble (album only)
Harley D - Distress Signal (album only)
Lowriderz - Dubplate (album only)
Furniss Feat. Spyda - Creeping (Serial Killaz Remix)
Vital Elements - The Shit That Booms
Concept One - Noise Pressure
Crinnion - Funky Business
Lowriderz x Distant Future - Horn Dub (album only)
DJ Hybrid - Ready To Rumble VIP
Code Red - Whatever You Want
Vital Elements - Is it Enough (album only)
Serial Killaz - Some Tune
Mozey - Lapa Drums (album only)
Deekline & Ed Solo - No No No (Serial Killaz Remix)
Insulate - Viral Weaponry
Ed Solo & Deekline - Bam Bam (Serial Killaz Remix)
Kastro & Scudd - LDN Ting
Vital Elements - Everybody Wants
Serum & Northern Lights - Bad Boys (Serial Killaz Remix)
Kontakt - Grave Yard Shift
Vital Elements - Give Yourself
JStar Feat. Spiky Tee - Babylon Children (FLeCK Remix)
Exile & Mark XTC - Take Me Away (Come Hard Mix)
Scudd & Konz - Bulletproof
Veak & Update - Illegal Soundwave
Exile & Leaf - The Korubo (album only)
Exile & AJ Mutated - Action
Marvellous Cain - The Hitman (Benny L Remix)
The Mixtape Vol. 3 (Mixed By Serial Killaz)
The third installment of the popular mixtape series by Serial Killaz presents an absolute monster selection of upfront drum and bass and jungle beats. To squeeze this amount of quality content into one release is pretty much unheard of and with over 55 tracks from producers such as Upgrade, T>I, Benny L, Voltage, DJ Hybrid, Ed Solo, Deekline and the Serial Killaz themselves, you won't find a better value offering this side of 2019.
One reason why these compilations are always so popular is that all of these tunes have been road tested months in advance by Serial Killaz across the globe. None of these tracks have gone without an instant reload or two and will certainly fill your virtual crates with ample ammunition for months to come.
Stuck for selection? This mixtape will most certainly have you covered.
Artist: Various Artists Release Date: 20.12.19 Label: Serial Killaz Catalogue Number: KILLAZDIGLP005 Press Release: Dubplate Creative