New Release: Serial Killaz Presents - The Mixtape Vol. 3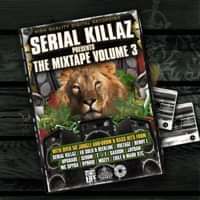 The third instalment of the popular mixtape series by Serial Killaz presents an absolute monster selection of upfront drum and bass and jungle beats. To squeeze this amount of quality content into one release is pretty much unheard of and with over 55 tracks from producers such as Upgrade, T>I, Benny L, Voltage, DJ Hybrid, Ed Solo, Deekline and the Serial Killaz themselves, you won't find a better value offering this side of 2019.
One reason why these compilations are always so popular is that all of these tunes have been road tested months in advance by Serial Killaz across the globe. None of these tracks have gone without an instant reload or two and will certainly fill your virtual crates with ample ammunition for months to come.
Stuck for selection? This mixtape will most certainly have you covered.
Artist: Various Artists
Release Date: 20.12.19
Label: Serial Killaz
Catalogue Number: KILLAZDIGLP005
Press Release: Dubplate Creative
Exclusively on the Serial Killaz shop for one week before general release.